Mitel Networks Corporation is a telecommunications company providing unified communications solutions for businesses. The company previously produced TDM PBX systems and applications, but after a change in ownership in 2001, it now focuses almost entirely on Voice-over-IP (VoIP) products.
The Mitel 3000 is an Integrated Communications System. It supports all your voice call needs and also
provides an optional Integrated Data Solution that allows multiple simultaneous Internet sessions and
up to 12 IP extensions.
• The Mitel 3000 can accommodate up to 20 Central Office (CO) Lines.
• The Mitel 3000 can be equipped with a T1 module providing up to 24 T1 or 23 Primary Rate ISDN
channels.
• The Mitel 3000 is modular in construction. It is upgraded by adding various system modules.
• The Mitel 3000 has a simple-to-use menu-driven interface.
• The Mitel 3000 is a hybrid PBX / key system.
• The Mitel 3000 has an Optional Broadband Module providing seamless multiple Internet sessions. It
also supports up to 12 IP extensions and VoIP trunks
• The Mitel 3000 can operate with a system Feature Phone and standard touch-tone telephones.
The Feature Phones are the eight-line key set and the sixteen-line key set. A Direct Station Selection (DSS)
can be used with the sixteen lines key Feature Phone, providing an additional 32 programmable keys.
ƒ The Mitel 3000 can be remotely programmed and maintained.
The Mitel 3000's modular design allows it to grow as you grow. No matter what size system you start
with, you can expand up to the maximum capacity. The base unit includes connections for either two or
four CO lines and allows up to eight extensions to be connected.
The system Feature Phone has a large display area that features an intuitive menu-driven interface. Display
keys activate the facilities that are shown on display. It is not necessary to dial any feature codes when
using the Feature Phone. This makes the system easy to use and saves you time.
The Mitel 3000 is extremely flexible. You have the choice of operating the system as either:
• A key system where all users have direct access to all lines for making and receiving calls.
• A PBX with all calls answered by an operator.
• A hybrid combination of both the above modes.
You can choose to use system Feature Phone or standard analog telephones at each extension, and you can
change the set combination at any time. An optional Door Phone is available that can be programmed to
ring any extension. A Doorstrike relay output is also provided.
The Mitel 3000 is easy to install and maintain.
For more info about Mitel, visit https://www.mitel.com/
This article wants to show you how you can Create a Mitel 3000 Series Dashboard in 10 Minutes. If you are here for the same reason, then follow along with my instructions step by step.
Step 1:
Signup in PBXDom from the following link:
https://app.pbxdom.com/#/signup
Step 2:
When you confirm your account by the link sent to your email, you are redirected to the setup page on the PBXDom website. Before start set up the PBXDom collector software, I draw your attention to the following diagram. It shows the connection between your Mitel and PBXDom.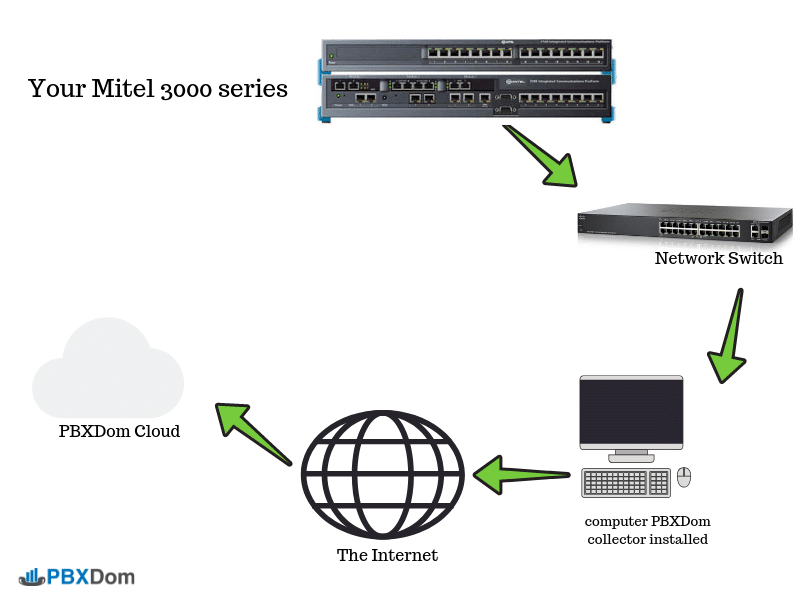 Download the Collector software by click on the Download button and go to the next step.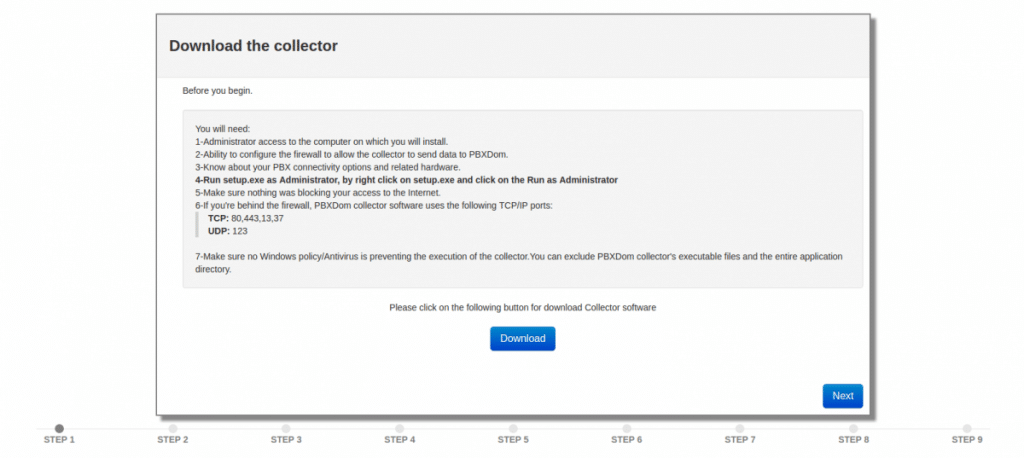 Step 3:
Before beginning, you will need:
1-Administrator access to the computer on which you will install.
2-Ability to configure the firewall to allow the collector to send data to PBXDom.
3-Know about your PBX available connectivity options and needed hardware.
4-Run setup.exe as Administrator by right-clicking on setup.exe and selecting the Run as Administrator.
5-Make sure nothing is blocking your access to the Internet.
6-If you're behind the firewall, PBXDom collector software uses the following TCP/IP ports:
TCP: 80,443,13,37
UDP: 123
7-Make sure no Windows Policy/Antivirus is preventing the execution of the collector. You can exclude PBXDom collector's executable files and the entire application directory.
Step 4:
After make sure about all the requirements, go to the next step.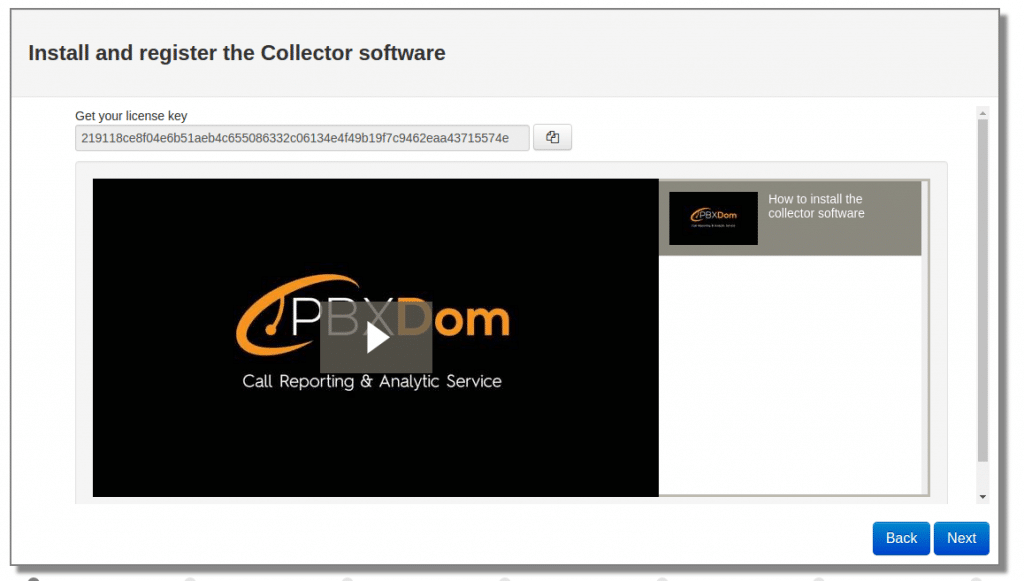 Step 5:
Install collector software, copy your license key, paste it into your collector, and press the register button. After your collector registered successfully, press the start button on your collector.
Please watch the following video to know how to install the collector data.
Step 6:
In the next step, you will see the following window.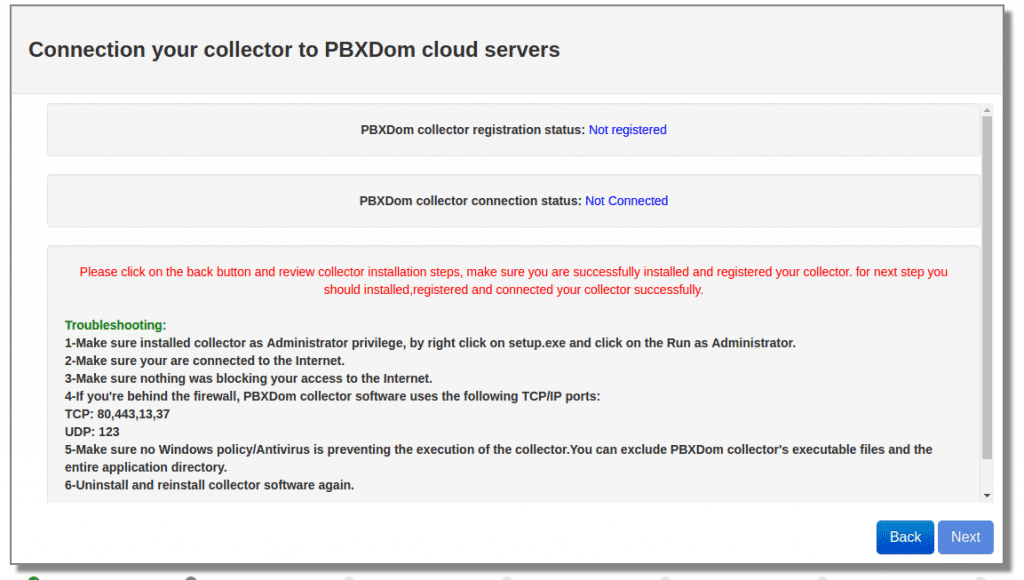 If you successfully registered your collector and started it, the PBX collector registration status changes from Not registered to Registered and collector connection status from Not connected to Connected like the following window after a few seconds.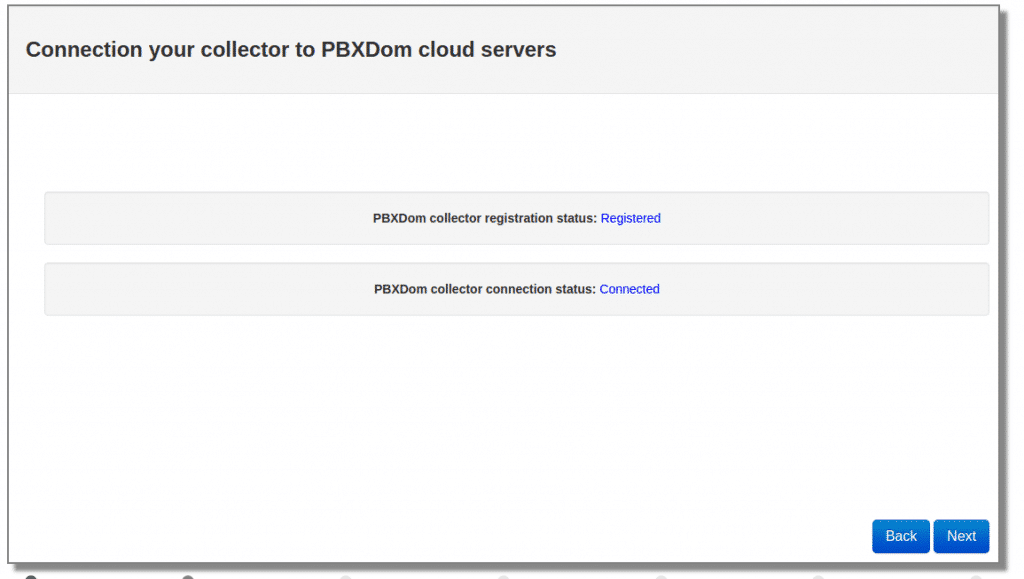 Now you can click on the Next button.
Step 7:
Select Mitel from the vendor list.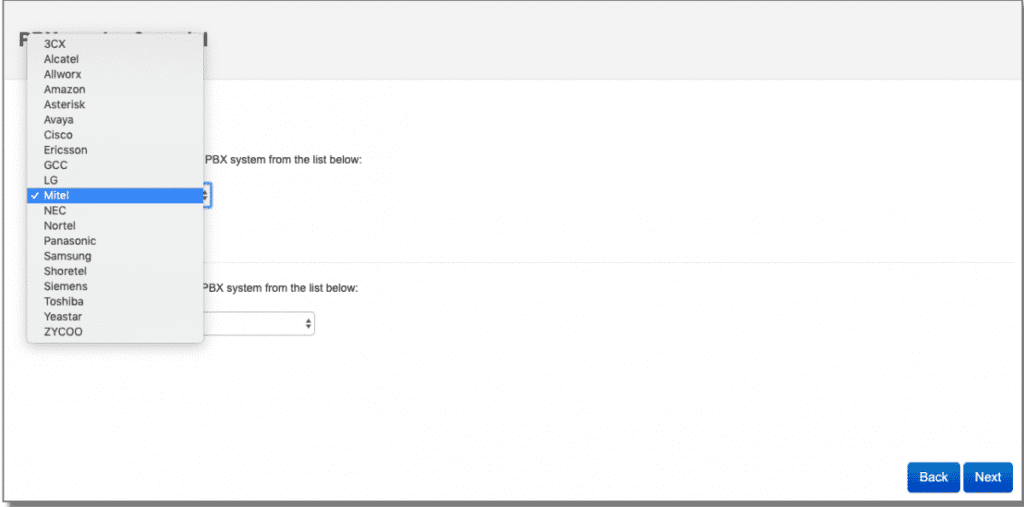 Select Mitel 3300 from the model list and click on the Next button.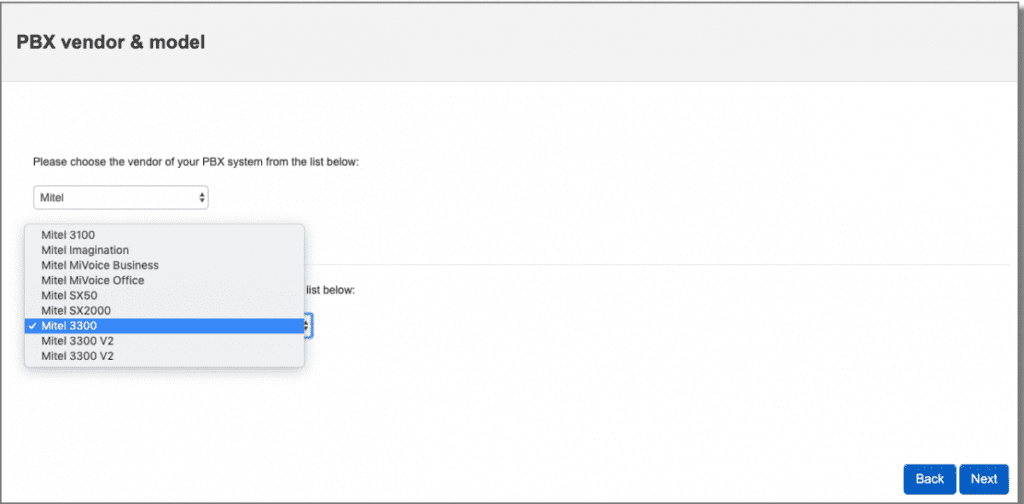 Step 8:
Click on LAN connection and click on the Next button.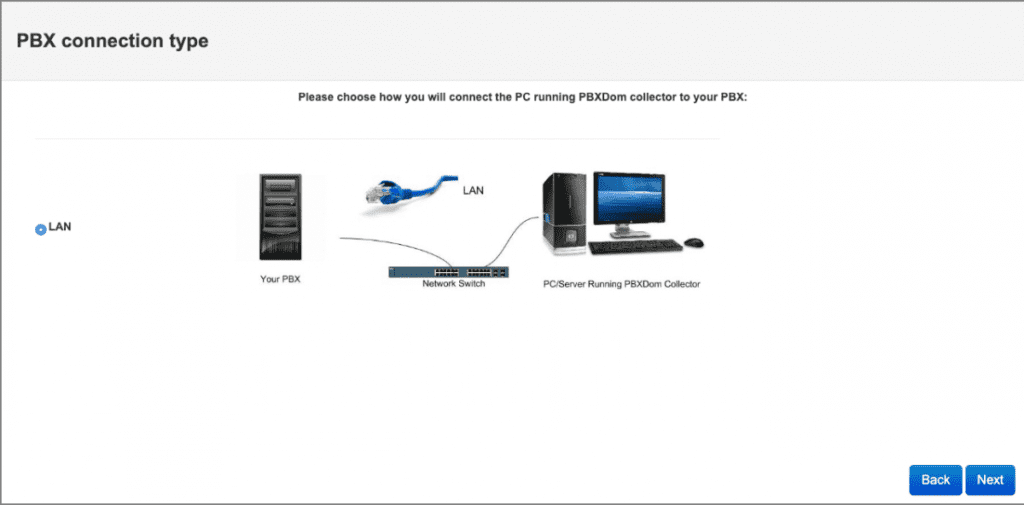 Step 9:
Select only your time zone and Date format to M-D-Y and leave other settings as set by default.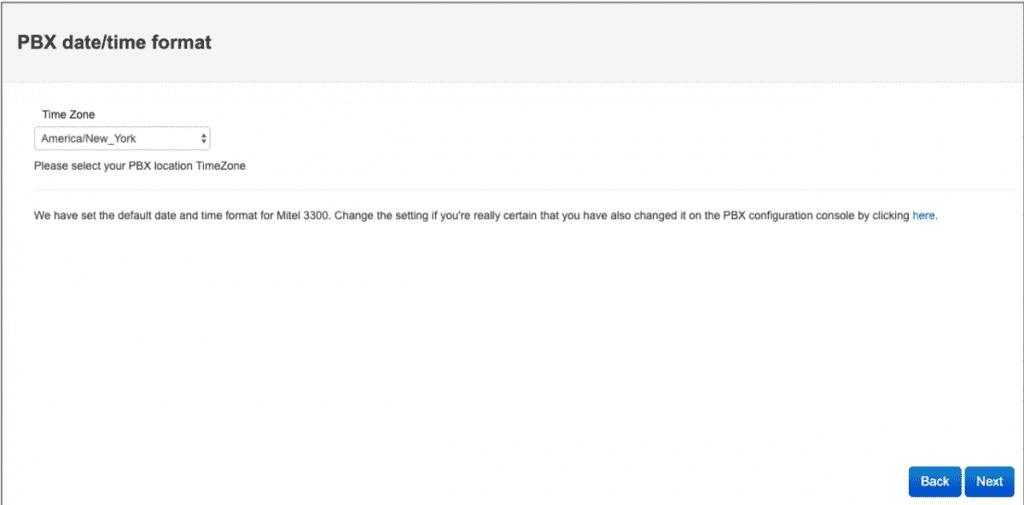 Step 10:
Enter your Mitel IP address in the Host field and 1752 for port and user and password
Finally, to send settings to your collector, click on the "send settings to the collector software button."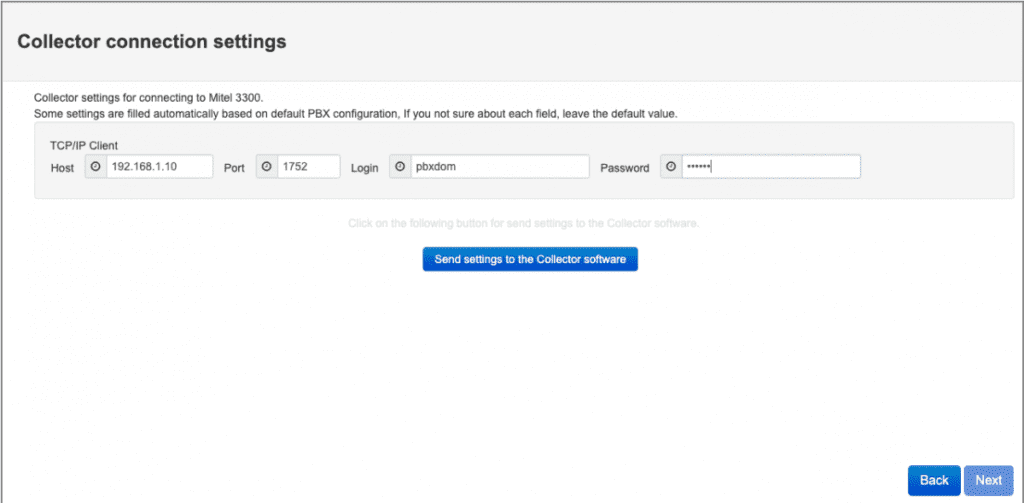 After the settings are successfully sent to your collector, you should see the following message, and you can click on the Next button.
"Settings sent successfully. Click on the Next button."
Step 11:
In this window, you can find information about configuring your Mitel 3000 series accepting a connection from the collector server.
Configuring your SMDR output by LAN
Follow the steps below to configure the SMDR options of your Mitel 3300:
1-Log into the Mitel Communication Director software
2-Click on System Properties
3-Click on System Feature Settings
4-Click on SMDR Options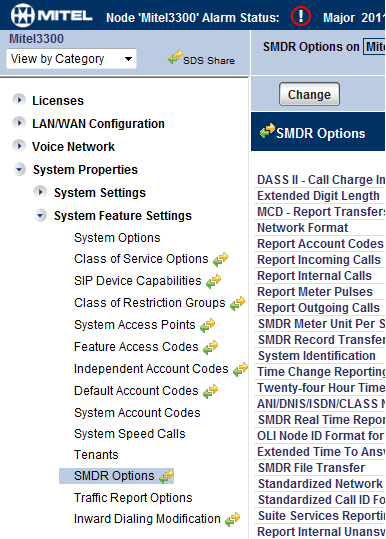 Set the SMDR options as shown below: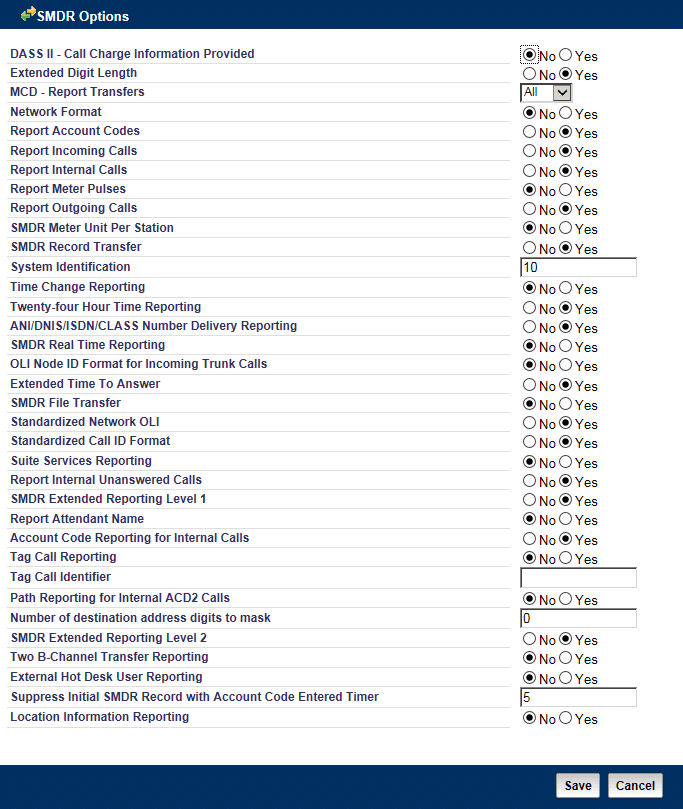 The System Identification option needs to be configured for each of your Mitel switches to identify them on the network uniquely.
If you are using SIP trunks, you need to add an SMDR tag with a unique ID to each of your SIP trunks to be identified in the CDR data.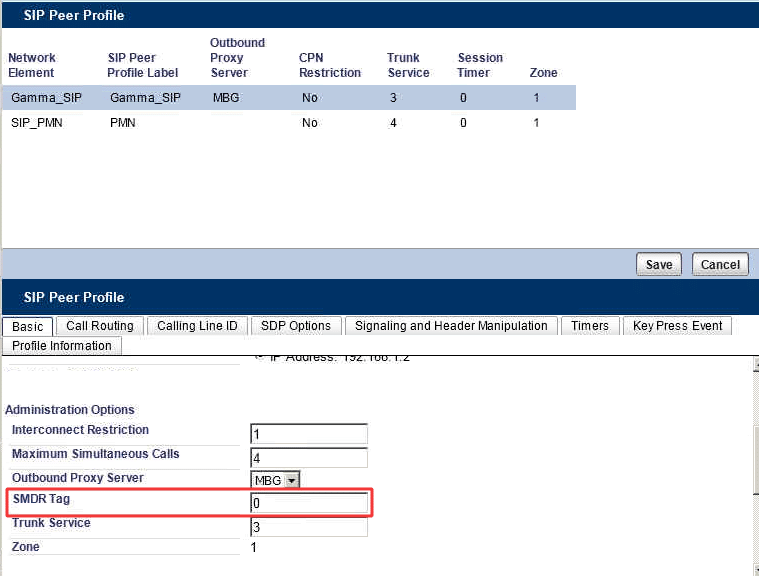 In addition to these settings, ensure the Class of Service options have been configured to output SMDR.
The default port for TCP/Client is 1752.
After configuring you're, Mitel clicks on the Next button on the PBXDom wizard.
Step 12
In the next window, you should wait till all the call data get loaded to your account.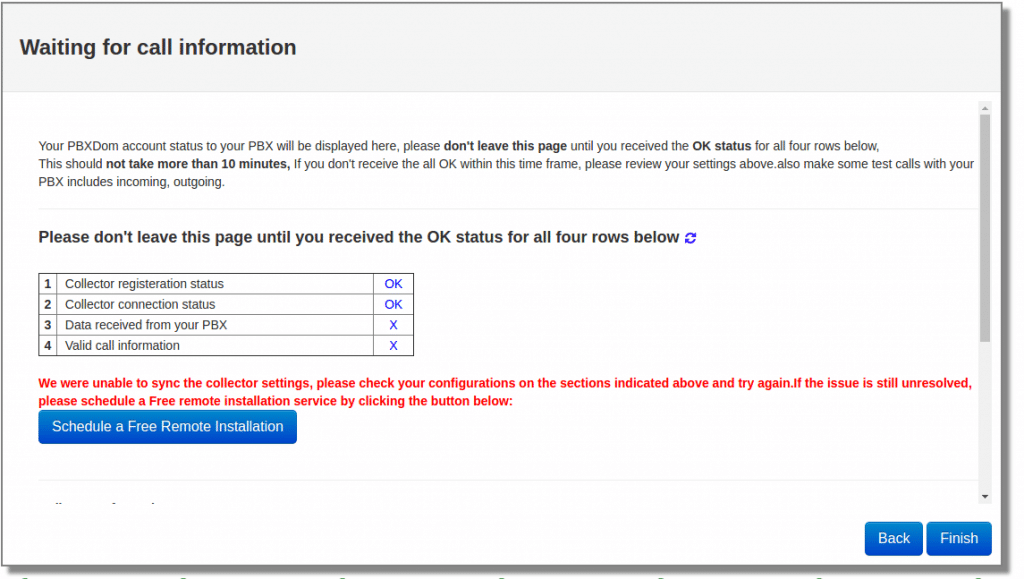 Please don't leave this page until you receive the OK status for all four rows below,
This should not take more than 10 minutes. If you don't notice all the OK within this time, please review your settings.
Also, make some test calls with your PBX to include a few incoming, outgoing.
If the issue is still unresolved, please schedule a Free remote installation service from the support menu.
After a few minutes, you should receive 4 OK and windows change to the following message on your screen: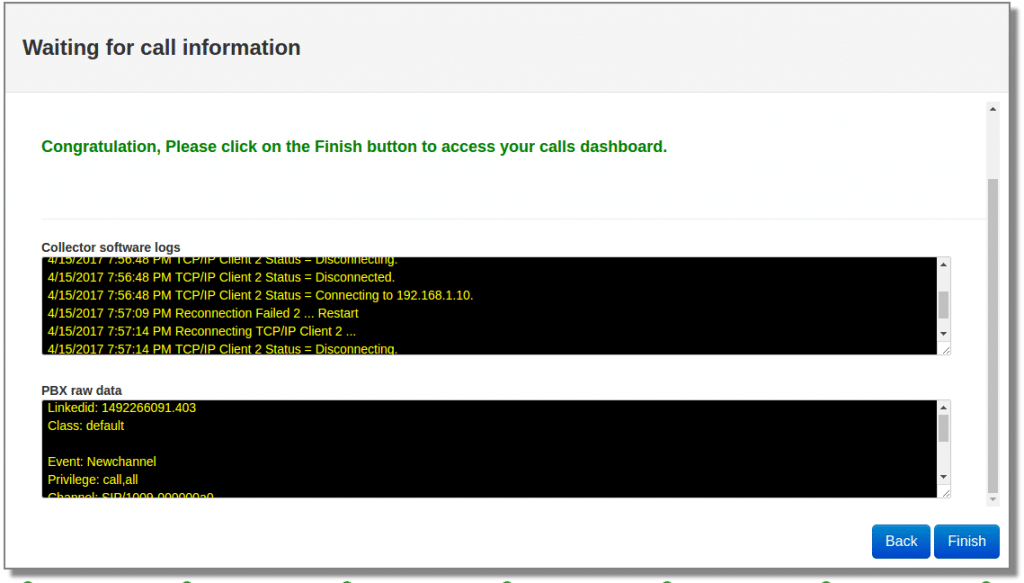 Congratulation, Please click on the Finish button to access your calls dashboard.

You can make as many as 50 dashboards as you want in the PBXDom. You can add up to 12 widgets in each dashboard from more than 70 available widgets.
Also, you can share a read-only dashboard all across your entire organization.
Finally, you can find a complete set of reports, charts in the reports and chart section.
I hope this article helps you find a very easy solution for making a dashboard for Mitel systems.