Right after the Weekly Statistics Report is delivered in our mailbox, some of us might go like, "What the heck of service does this report can even serve? Maybe, I know how to get rid of it!"  And then, you sweep it right into the trash, and the deed is done. Happy, right?
You might justify what you did in a fairly logical way and say, "Well, PBXDom already has lots of way more powerful features and functionalities, which basically eliminate the need for these types of emails. There are the possibilities of generating reports and charts and a lot more. And if wanted, I could log into my account and access all this information whenever I'd like. "
That's completely true! But if I were you, I would never kick that email that hard. I'm not a person to judge a book by its cover. I'd rather kill a few seconds to get to the bottom of it by poking my nose under the hood.
You must know that little Weekly Statistics Report is a phenomenon, and it pop-ups in your mailbox not to bug you but to do you a big favor.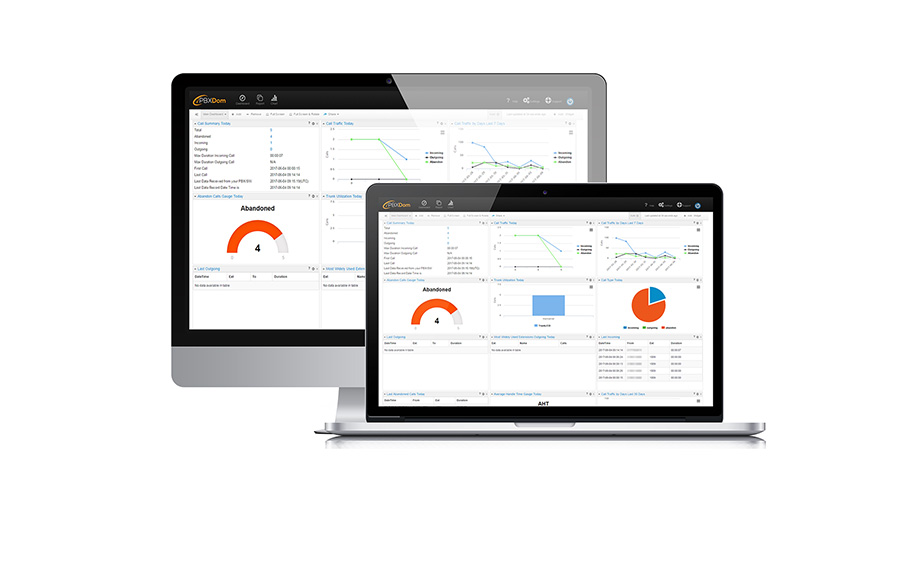 If you are a manager, you are certainly very busy buried under an overwhelming number of tasks and responsibilities to take the burden of daily. You have to keep your eyes on your company's or organization's calls and monitor them among all of them.
This means sitting behind your desk, booting up your PC, signing in to your PBXDom account, and then spending hours of your valuable time watch some figures bouncing up and down on your monitor.
The clock is ticking fast like crazy, and your calendar is overfilled with all kinds of important tasks and plans, which their accomplishment plays a great role in shaping your future.
However, it does not necessarily mean that accounting, monitoring, and managing your company's or organization's calls are not playing any critical role in achieving your goals and purposes. In fact, we all know they do, especially if your limited budget requires you to manage your telecom call costs.
You spend a lot of time, money, and effort on advertising, and now lack of time prevents you from monitoring your calls and managing them.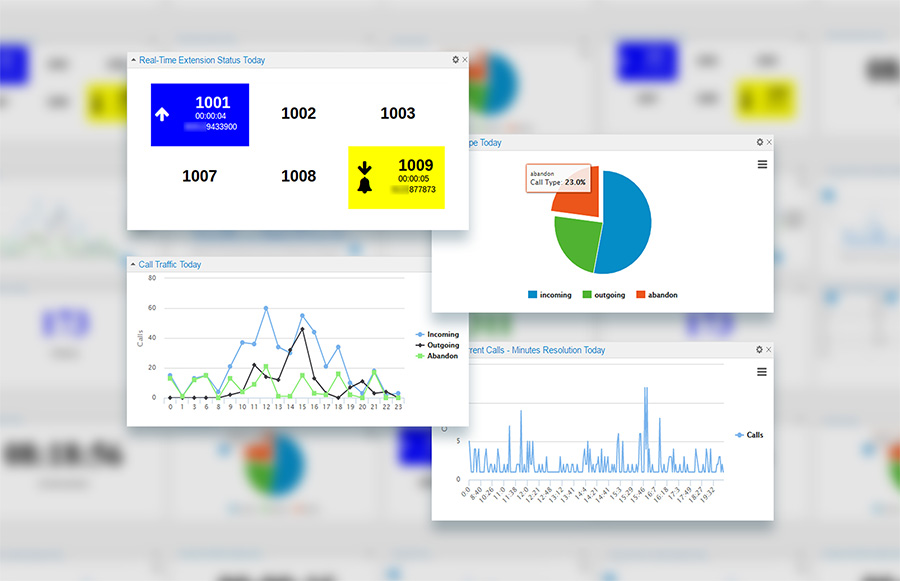 I have personally experienced failing to do an important task or plan leads me to have very stressful moments. This terrible situation could shut my whole system down, and I'm no longer going to be able to focus on any other important matters. You might also know how it can be very distractive.
Besides, as far as we are all concerned, when there is a tool like a Call Management and Analysis service which helps us keep track of every single bit of information and allow us to dig deep into all the recorded details, then don't you think that there are situations which force us to skip all the way to the endpoint. I mean a report that only includes a summary of all the calls based on their types as incoming, outgoing, and abandoned calls and so on.
Introducing Weekly Statistics Report
With the help of the PBXDom Weekly Statistics Report, companies' managers will be able to have a quick look at the total number of their calls over the course of a week. This report enables managers not to miss monitoring their company's or organization's calls even during the busiest weeks.
You will certainly value using it after finding yourself surrounded by tons of plans and tasks to operate within the limited time you have.
With such a possibility, your management quality never gets affected since you practically will not neglect your call information as one of your company's biggest assets or organization.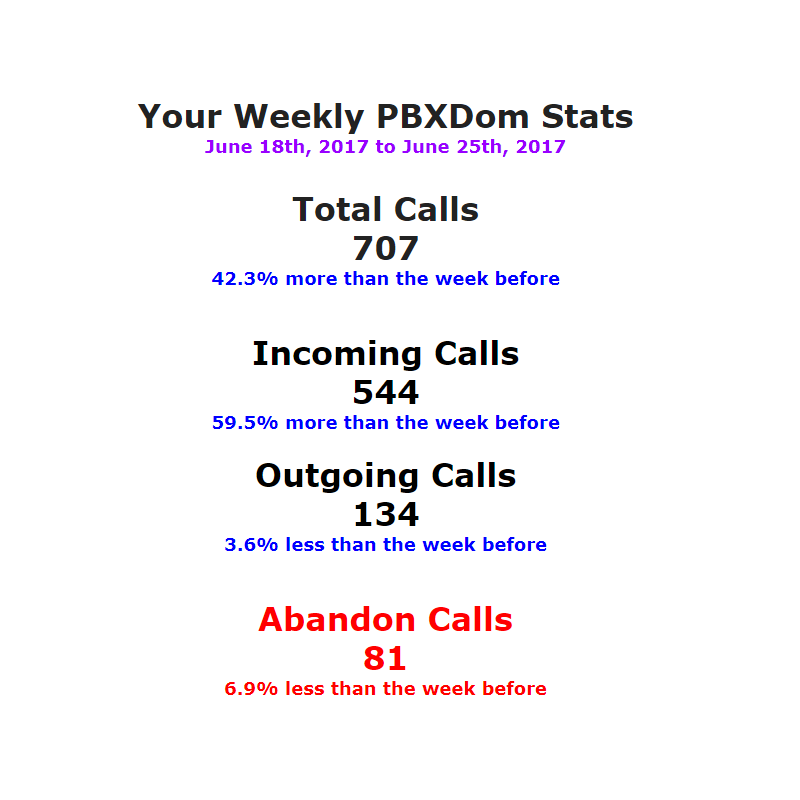 Right after getting notified of the latest call statistics for a week, as a manager, you will know if you need to act quickly to cut your telecommunication costs and increase your responsiveness and profitability.
So, it seems like this so-called tiny little feature can play a great role in your managerial life and comes absolutely helpful.
Weekly Statistics Report also allows you to compare last week and previous weeks by providing you some pre-calculated percentage values.
Configuring Weekly Statistics feature on PBXDom
After logging into your account, you can refer to the Settings gear icon right at the right-hand side of the PBXDom application. Then, under the General section, turn On/Off the Weekly Statistics Report, as depicted below. As simple as that!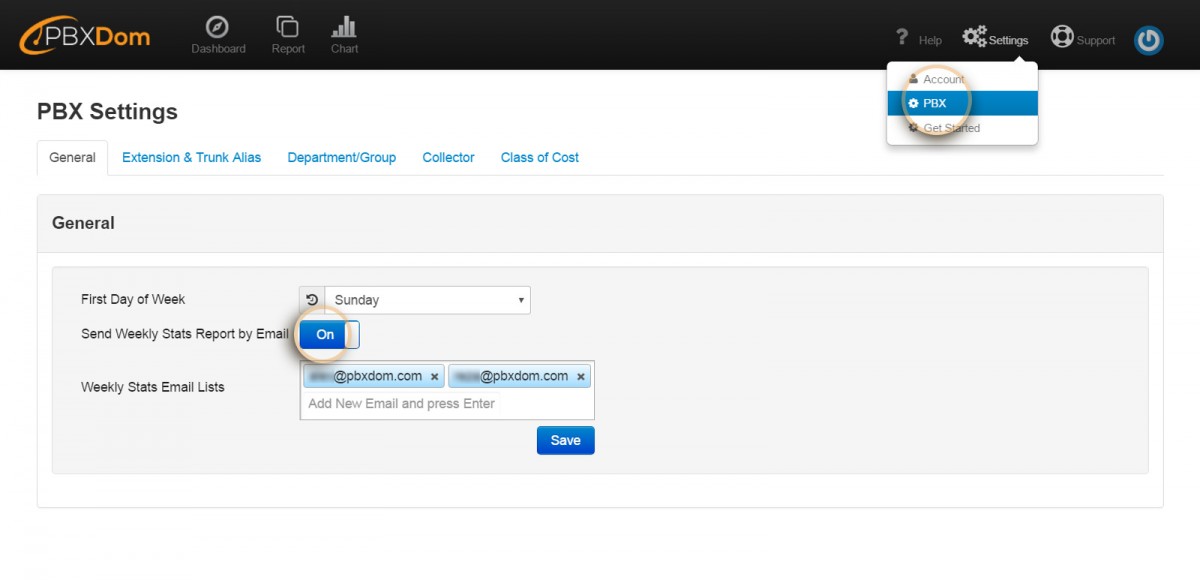 By default, PBXDom only sends the weekly report via email to the owner of the account. However, the list of emails can be extended further, and more emails can be added to the list.
After full completion of a week, PBXDom automatically sends a generic report of your calls to the list of defined e-mails. Some of the information you could find in the weekly report is:
Total number of calls
Total number of incoming calls
Total number of outgoing calls
Total number of abandoned calls
Plus, weekly reports also provide some calculated percentage values that help the managers to make quick comparisons between the previous weeks to determine the progress and recessions made and figure out the possible reasons.
 
Features on PBXDom have been developed based on the most in-demand needs of its user. Busy hours and weeks can never prevent you from monitoring your phone costs, employees' performance, and measuring their productivity, as well as assessing your company's support and service quality.
The weekly Statistic Report feature on PBXDom leads you right to the most critical facts in the fastest way possible by just simply sending you a few values in the context of an email.
If you have any questions, please do not hesitate to contact us. At PBXDom, we are looking forward to hearing from you.