More Precise Call Accounting on PBXDom: Making expansion and basing your branches or divisions in other states and countries lead you to work with different telecommunication service providers. Some providers have different pricing models, or conversation costs can noticeably differ from one country to the other.
One of the Call Accounting and Analysis services capabilities is calculating the total call cost of your landlines/Trunks. But we need the presented cost to be exact and precise.
If your company or organization is utilizing different landlines coming from different telecom companies, then you need to enter their pricing models and policies manually into your Call Accounting and Analysis software for each landline.
Also, it's a good idea to put some time and define the cost of international phone calls for some of the countries your company frequently makes calls to.
Perhaps, at this moment, you're using a few numbers or hundreds of landlines coming from one and only one service provider or different ones. So, it requires you to set up your call accounting and monitoring application properly to measure your phone costs precisely.
On PBXDom, all of this is possible by creating different cost classes, which I'm going to tell you about it in the following.
Make sure you're logged into your account on PBXDom Call Accounting.
Then go ahead and click on the Settings in the top-right corner of the application. From the menu list, choose PBX settings. Then go ahead and click on the Class of Cost section.

The class of Cost section allows you to define different classes of cost for each telecommunication service provider.
Later on, after you could successfully enter your telecom pricing models to calculate the cost of your calls, you can link the classes to your landlines.
To add a new class, click on the Plus/Add button. Then below the list of defined classes, a new section appears with the name Class of Cost Information.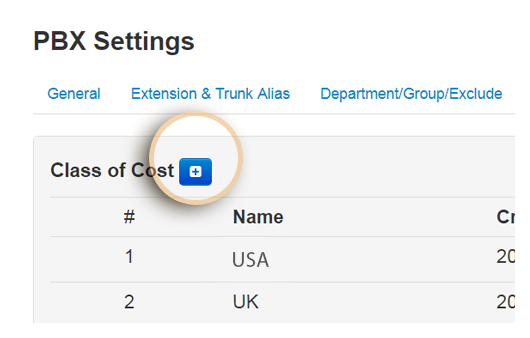 In this section, you can define your calling rates both for incoming and outgoing calls. Here is where you can enter all your telecom pricing model information.
First, you can have an arbitrary name for the class. Then start entering different information, like tax percentage, incoming/outgoing rate based on per call, second, minute, and month.

You can even eliminate some of the cost of the incoming and outgoing calls which have a duration lower than a certain value by taking advantage of Incoming Calculate Charge X Sec and Outgoing Calculate Charge X Sec.
For example, if we enter 10 as the value of these fields, then the cost of all the incoming and outgoing calls with 10 seconds and more will be taken into account. And calls with a duration of fewer than 10 seconds will be ignored.
Some of the telecommunication companies have defined minimum durations for charging incoming and outgoing calls. You can enter the minimum durations for calls as defined by your telecom company into Incoming Minimum Charge X Sec and Outgoing Minimum Charge X Sec fields.
As an example, if we enter 60, then all the incoming and outgoing calls with a duration of fewer than 60 seconds will be charged as if they lasted 60 seconds.
As soon as you specified all your calling rates, both for incoming and outgoing calls, you need to store your settings by clicking on the Save button. The new class of cost gets added to the list of classes.
If your company or organization makes frequent international calls to some of the countries, then you should define calling rates for international calls for each country separately based on your telecoms pricing guides.
Again, considering which telecommunication provides you with services and in which country they are located, calling rates can differ from each other. Also, some of the companies have different pricing models during different hours of the day.
By simply clicking on the Gear icon on the right-hand side of each class and scrolling down to the bottom of the page, you can make a list of other conditional rates for calculating your calls under the Custom Rate section.

Click on the Plus/Add button to the left of the Custom Rate List to add a custom rate.

Here in the fields, you can type in an arbitrary name for the custom rate, define a destination pattern, rate per second, the rate per call, a time range, days of the week, and a lot more.
As the final step, after creating a class of cost for your telecommunication service provider, then you can link your landlines/Trunks to the class by referring to the Extension & Trunk Alias section.
On the right-hand side, you can choose your class of cost from the menu list to the right of each listed landline.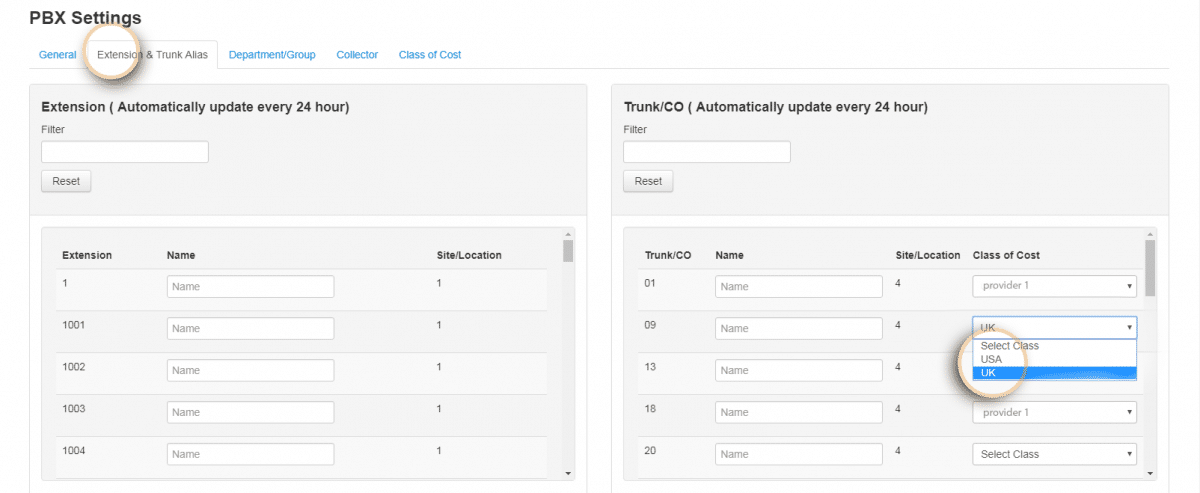 Now that you know how to create different cost classes for each of your landline telecom service providers and different custom calling rates for making international calls, you become certain that the presented cost data by PBXDom Call Accounting is reliably accurate.
You can obtain more information and review some more examples of different cost classes by referring and reading through PBXDom Call Accounting help pages.
But if you ever run into any question or issue, please feel free to contact the PBXDom team via email, online chat, or our toll-free phone number. We'll be glad to hear from you.