This time around, I'd like to signal you to land on another important section of PBXDom settings and pick up some new skills and knowledge.
Throughout this five to ten minutes of reading, you'll learn where and how to find your Trunk/CO lines, as well as the extension numbers information within your company or organization departments, and choose different defined classes of costs for your landlines and different telecommunication providers.
I personally consider it as one of the important aspects of working with PBXDom. In fact, there are times when you feel like you must know about your company's landline resources and extensions as you sense it's needed. Therefore, knowing where to refer on PBXDom and how to do it in advance can come in handy. So stay tuned!
Adding and introducing landlines and extensions on PBXDom is done automatically whenever the first call is made or received by a number. So interesting to know that—in contrast to what some of us might think—it's not a manual process to add and introduce our landlines and extensions.
To know about your landlines and extensions, first, you need to refer to the Settings button right at the top of the PBXDom interface and then select the PBX setting from the menu list.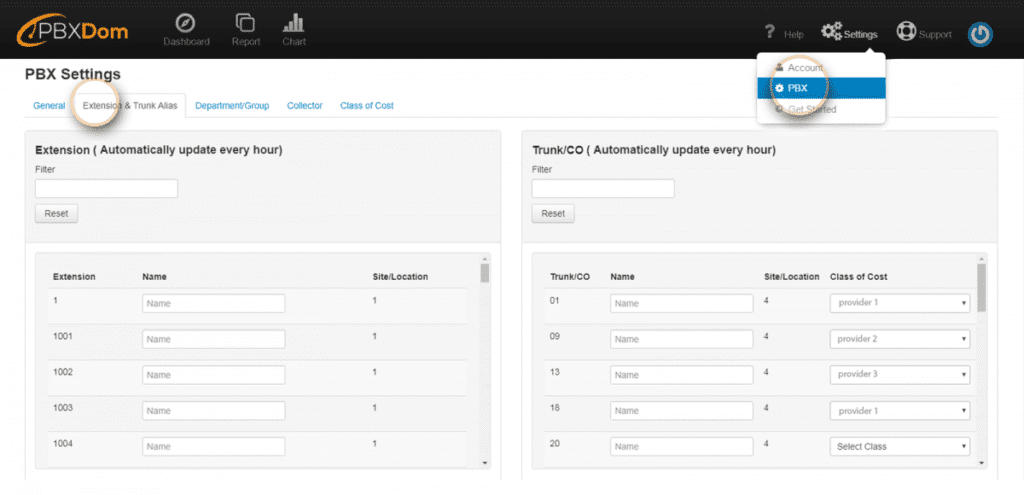 Then hover your mouse over the Extension/Trunk Alias tab and click on it.
You'll notice two side-by-side lists waiting for us to meet with them and their information.
The offered lists get updated on an hourly basis, which means that new landline numbers and extensions are being added automatically every 60 minutes.
Sometimes, when you refer to these lists, you notice them empty without any list item. As weird and confusing as it might sound, but I have to tell you that it's not a big deal.
As I said, these two lists get refreshed with newly received data every one hour. This also means that the user must wait till the new data is projected out to the site.
Under Extension/Trunk Alias, you can assign different arbitrary names and numbers to CO lines and extension numbers. The names and numbers you define in this section can be seen in the widgets and reports you create and generate. You can also define and select different cost classes for each extension and trunk from the list of the defined classes.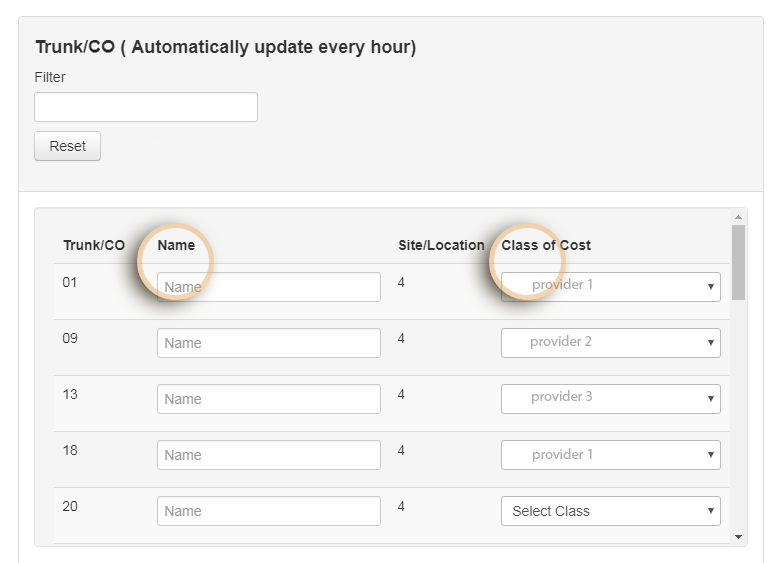 So with all of this being said, next time you're interested in knowing your landlines and extensions information, and more importantly, picking the right class of cost for them, you know where to refer to. Extension/Trunk Alias is indeed clean, organized, and simply informative.
Please feel free to drop your questions, suggestions, and feedback at our email. Or, if possible, talk to our team via our chat online service. By any means, we'll be so glad to hear from you.