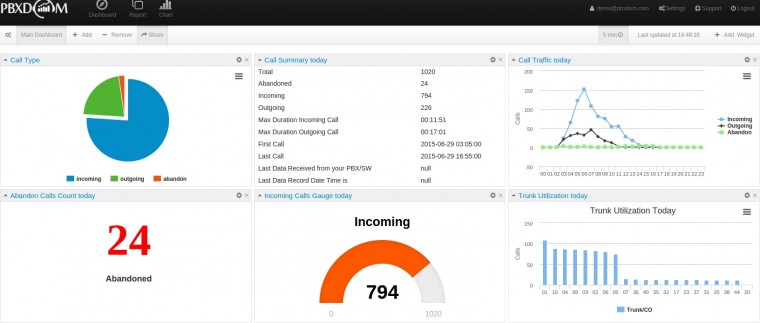 If you are looking for something that generate detailed reports regarding your telephone or even call center activity regardless of the region that you are in, PBXDOM is going to be one of your best bet. However, you don't have to take anything for granted. We have taken the liberty of accentuating a few of the prominent features that PBXDOM has to offer in order for you to make an informed decision about choosing it. Without further ado, let's take a closer look at what PBXDOM has to offer in order to let you have a better idea.
To begin with, PBXDOM is a piece of software that is absolutely convenient to be installed in the client computer. Connecting it with your telephone in order to generate detailed reports about your call activity is absolutely user-friendly and you can analyze the reports from anywhere in the world. Provided that you are looking for multi-platform features, PBXsmdr is going to be a commendable option for you. The software enables you to make use of it not only your personal computer, but on a laptop, a tablet PC, or even a smart device of any kind without compromising on any of the feature that it has to offer.
One of the greatest benefit of making use of PBXDOM for the aforementioned purpose is that it doesn't matter even if your internet connection is not exactly reliable or if you travel a lot so you do disconnect every once in a while, the software ensures that the reports are updated immediately as soon as you connect back to the internet.
PBXDOM servers are hosted on 12 different locations which ensure that the clients won't have to face any amount of unnecessary down times. If you are looking for a service that is available 24 hours a day and seven days a week, then PBXDOM is going to be one of your best bet. Not only does PBXDOM provide a lifetime storage for all of your reports which are generated regardless of the amount of information that it contains, but it does encrypt your data with 256 bit system in order to ensure the privacy and security of your data. Last but not the least, PBXDOM generates incoming call report, outgoing calls report, no answer calls report and call history report in a summarized fashion that enables you to analyze it conveniently.
In the light of the information mentioned above, it can almost be taken for granted that if you are looking for detailed reports about your call activity, PBXDOM is going to be one of the finest options available in the market. There is no argument over the fact that the service is going to cost you a little bit of your precious money, however, considering the above-mentioned benefits that it has to offer in return, it won't be wrong to state that it would be worth every single penny that you end up spending on it. What else could you possibly ask for?
Latest posts by Reza Mousavi
(see all)