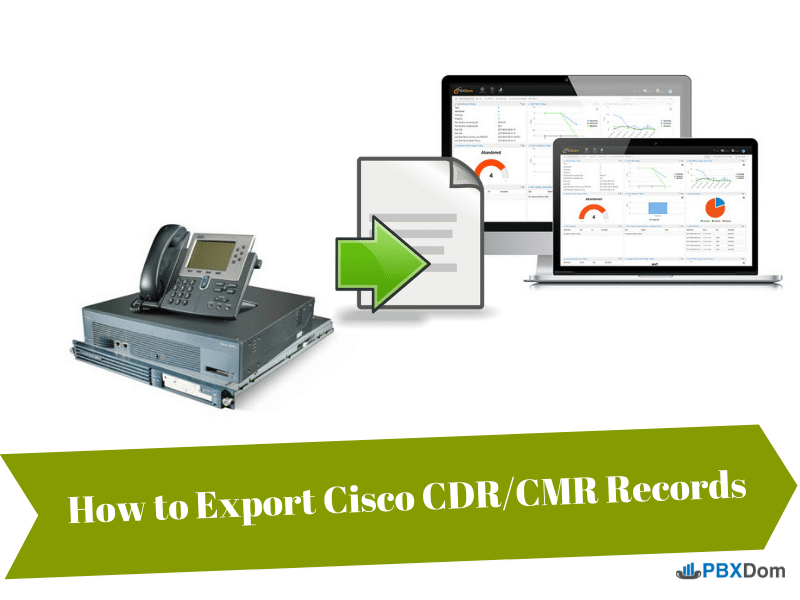 Cisco Unified Communications Manager (formerly Cisco Unified CallManager) serves as the software-based, call-processing component of Cisco Unified Communications. (PBXDom is Cisco Call Manager Dashboard 3rdparty).
Call detail records (CDRs) detail the called number, the number that places the call, the date and time that the call starts, the time that the call connects, and the time that the call ends. Call management records (CMRs), or diagnostic records, detail the jitter, lost packets, the amount of data sent and received during the call, and latency. CDR data comprises CDRs and CMRs collectively. A single call can result in the generation of several CDRs and CMRs. Cisco Unified Communications Manager records information regarding each call in CDRs and CMRs. CDRs and CMRs, known collectively as CDR data, serve as the basic information source for CAR.
Sometimes for using the 3rd party application( like PBXDom) or backup/audit you need to export your CDR/CMR records.
Here is the step by step guide, How to Export Cisco CDR/CMR Records.
1-Select Cisco Unified Serviceability from the Navigation drop-down in the (upper right corner) and click Go.


2-Select Tools > CDR Analysis and Reporting.


3-Select CDR > Export CDR/CMR.


4-Input date range of records, and click Export to File.


5-Right-click on the CDR Dump link and select Save Target As.


To delete the CDR and/or CMR dump, check the Delete File check box and click either Back or Close.
If you do not check the Delete File check box(es) (for example, if the CDR or CMR dump files get left undeleted), the background process deletes the files on a daily basis. Because the CDR and CMR dump files are large in size, Cisco recommends that you download the file to a local disk and delete them from the server to avoid disk usage on the server side.
You can use the exported files for import to 3rd party application and services like PBXDom.
Latest posts by Reza Mousavi
(see all)